Experience Zapotec Art & Culture
with Porfirio Gutiérrez y Familia
Oct. 29 – Nov. 5, 2019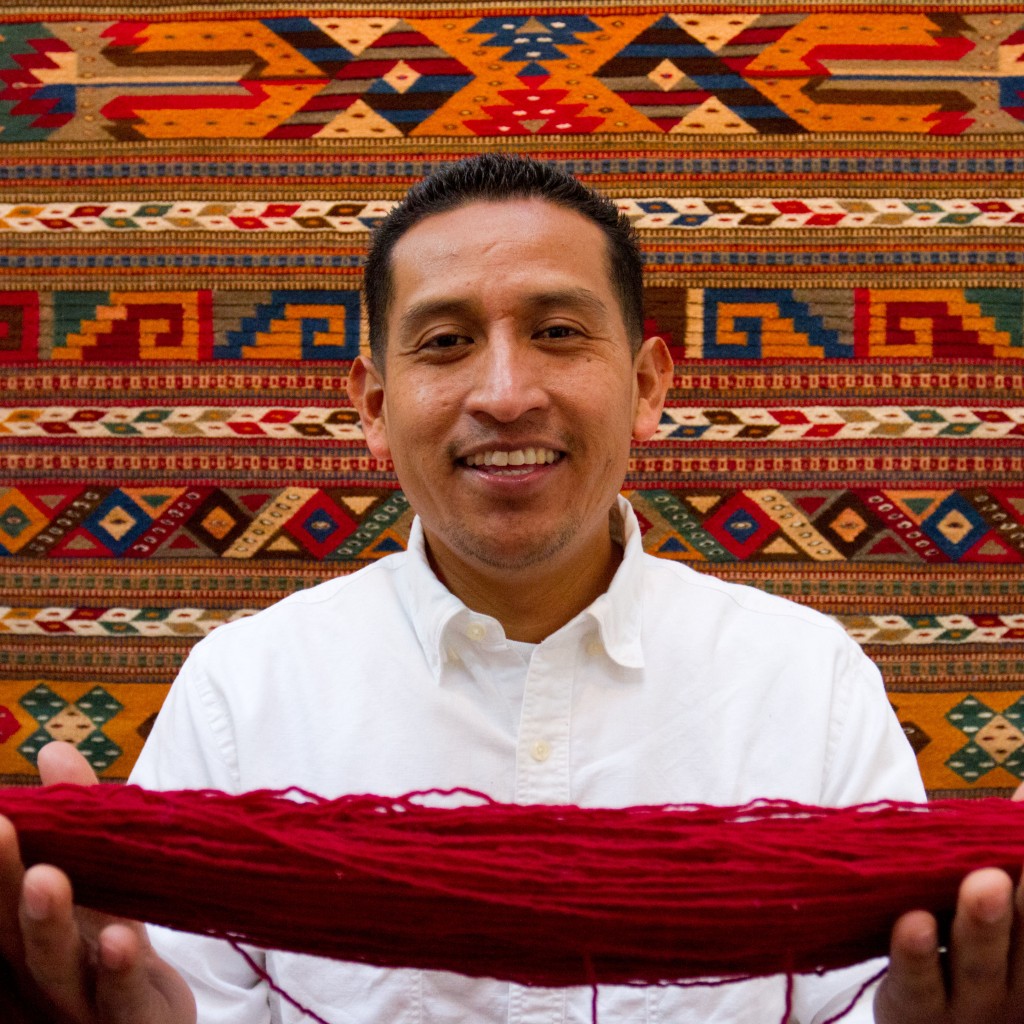 My family and I invite you to join us in our home town, Teotitlán del Valle, for a unique exploration of our Zapotec culture, community and traditions during the annual Dia de los Muertos, The Day of the Dead. Together, we will honor our ancestors, create cultural connections, and explore Oaxaca's artistic diversity. You will experience life today in Teotitlán del Valle and our neighboring towns, visit artist studios and historic sites, share meals and participate in our festival preparations along with us.
Together we will explore my family's Zapotec heritage and history, and consider how the modern Zapotec identity is shaped by centuries-old customs. There will be ample time for independent excursions, quiet walks and happy discoveries. I look forward to welcoming you to my home in Oaxaca. ~ Porfirio Gutierrez.
"In Mexico, Weavers Embrace Natural Alternatives to Toxic Dyes" New York Times
PROPOSED ITINERARY
Daily activities run from approximately 8 AM – 4 PM unless otherwise noted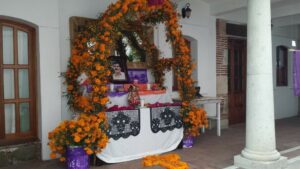 DAY 1 Tuesday, Oct. 29th/ Arrive Oaxaca City 8:30 PM, first night at Casona El Llano. Check in and enjoy a welcome reception.
DAY 2 Wednesday, Oct. 30/ Juana invites you join her at the local mercado to buy pan de muertos, flowers, cocoa beans and other ofrendas for our family altar. We will all share in our family's preparations, then visit my godmother Viviana who sustains the long-practiced art of making beautifully decorated beeswax candles that are used in some very special occasions such as weddings. We'll explore my village and show you our museum, cultural center and the last remnants of the original temple of my ancestors right behind our church. While we are at the church, I will share with you bit of history of the fragments original carved stone by my ancestors. (B, L)
DAY 3 Thursday Oct. 31/ Let's get cooking! After breakfast we will all help prepare the food for our loved ones while we learn about the significance of Zapotec family altars and the meaning behind each ritual. We will then begin to decorate the altar with the ofrendas we bought at the mercado. By 3:00pm we should be ready to welcome our loved ones. After the spirits' arrival the village comes out to walk through town, visiting and taking offerings of pan de muertos, mezcal and candles to relatives' homes. (B, L, D)
DAY 4 Friday, Nov. 1st / Our day begins with a hearty breakfast at the organic market. We'll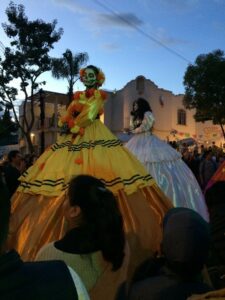 travel to the studio at 11 am and join the observances there. Guests will have a chance to dip their hands in the cochineal vat to dye their own wool scarf. By midday we'll share a traditional lunch of favorites like higadito (think Zapotec quiche), chocolate and atole. 5 pm marks the hour when spirits depart, and we will be joining a community celebration with music, food and mezcal. In our cemetery we'll see tombs decorated with colorful fresh flowers and more offerings by loved one remembering their departed souls. Tonight, we'll return to the city for anyone wanting to see the other side of the celebration and join a lively calenda procession through town. (B, L)
DAY 5 Saturday Nov. 2nd Master Artisans Alebrijes, black clay pottery and elaborate embroidery distinguish Oaxaca's craft traditions. Today we'll meet three master artisans sustaining those traditions and creating an innovative future for their artforms. We'll learn from experts in embroidery, black clay pottery and carved wood painted figures. Lunch outdoors on a shady patio will round out our day. (B, L)
DAY 6 Sunday. Nov. 3rd/San Agustin Etla, Art & Innovation: Today after breakfast at the hotel we'll head north to the green hills of San Agustin Etla, home to the CASA arts center, a beautifully restored former mill that houses a paper studio, felted sculpture workshop, gallery and art classrooms. We'll have lunch in a nearby outdoor dining room and stop by to visit with a painter using cochineal pigments in his artwork.
Dinner on your own back in the city. (B, L)
DAY 7 Monday, Nov. 4th After breakfast we'll walk to the Botanical Gardens for a tour from 11 am – 1 pm. Free afternoon for shopping. This evening we'll gather for our farewell dinner to reflect on what we learned and celebrate our week together. (B, D)
DAY 8 Tuesday, Nov. 5th Departure day. Leave for the airport by 7:30 AM. Guests who'd like to stay longer can work with us to extend their hotel reservation.
COST PER PERSON $2495, exclusive of airfare. This is a sample itinerary and subject to change. Maximum group size is 12. Meals provided are noted as B-breakfast, L-lunch, D-dinner. Tour cost includes airport transfers, ground transportation by private van, interpreting, entry fees, guide services and all meals noted. Additional expenses are alcoholic beverages, personal purchases, and optional gratuities. Price quoted is per person, double occupancy. Single supplements for individual rooms are $450 per person. There is a limit of 4 single rooms on a first-paid, first-reserved basis.